FISH and TALES
Home of "The Hoover Fishing Report"
This site owned and operated by Jim Horan and is copyrighted. Copyright © 2021 All Rights reserved.
On the first day we went out alone and hooked up with this 5+-lb. Smallmouth Bass using a jointed Rapala. We recalled hearing about folks that take pictures of themselves called "selfie's". So we took out our digital camera in one hand and the fish in the other and offer here the first, only and last "selfie" we'll ever take. As the fish flopped while photo was being prepared to be taken, we nearly lost the camera in the lake. But at least for those that doubted we ever caught a fish, here's a nice one and even better he was released to grow bigger for us next year. (Fish is on the left.)
We returned to Bay Wolf at Shinning Tree, ON for our 4th visit in 5 years. Several friends from the Columbus area had been to the camp earlier in the year, one of which has already made plans to return. This year we had the pleasure of being with the Canadian friends we referenced in the 2015 page. Steve and Diane Kovacs and their daughter Tracy Phinney and her husband Chris were there for the week. Since Dottie wasn't up to going out in boat this year we were able to get Tracy with us as we explored Shinning Tree Lake and also made a portage to Nora Lake.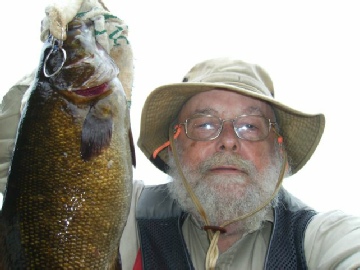 Sometime before our arrival, other folks that were staying in our cabin happened to be cooking bacon at 10:00 p.m. with the windows open. It seems bears like bacon. This particular bear came into camp, tried the door, which was closed and then tore off the screen adjacent to the door and reached through the opening and cleared off a table on the other side of the window. Luckily the window was too small for the bear to gain entry. Therefore the folks inside did not have to share their bacon and were able to scare the bear off. (Moral: Cooking bacon at night with windows and doors open in the woods of Canada is unlucky.)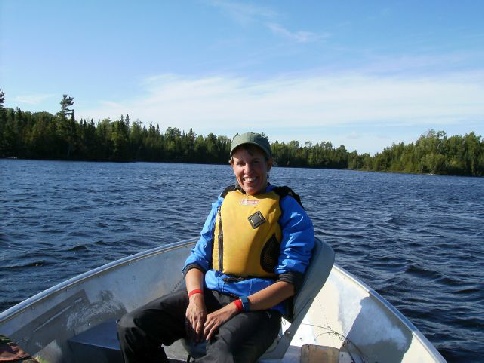 Tracy was kind enough to go out with us a couple of the days as she is an avid angler of the first order. Together we decided 1983 was the first time we met when she was a little girl with a big fishing pole and already knew how to use it. She's only progressed in her skills. She and her husband Chris, who takes a book with him when they fish together, have purchased a cabin in southern Ontario. She spent much of our time together reporting all the incidents that have occurred as the cabin is on a very large wild property and contains lots of "critters", some of which have neither arms nor legs nor fur nor feathers and have been found hanging in the cabin from time to time. Tracy and Chris are huge outdoors folks. Chris is a most skilled certified diver which he has done all over Canada and the Caribbean. He has made many videos of his dives while photographing fish. Both of them are great conservationists.
Who says Canadians don't have a sense of humor? Out on an island in this big lake (W. Shinning Tree) we saw Sasquatch!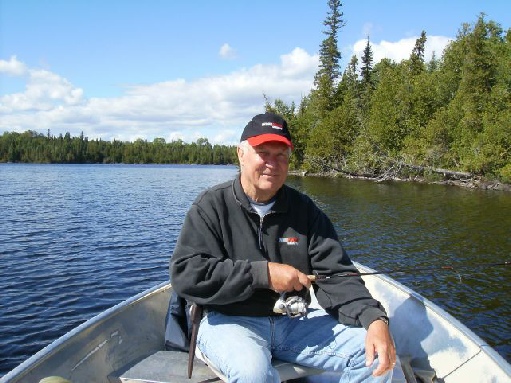 Tracy's Dad Steve, went out with us one day while Tracy and Chris explored another lake. For years now just before the entire clan goes off to a fishing camp he has emailed us asking about what better line, lure etc. he should acquire to try and best Tracy. We always give him something new to try but frankly we know as does he that he could have the whole Cabela's at his disposal and . . . it ain't gonna happen. Sorry Steve, you raised her to be the best.
Though 2 huge cold fronts moved through while were there, we only lost 1 days fishing because of thunder storms. It was the first time in memory that we didn't have to wear a heavy coat at any time. The weather was still very warm for September and they hadn't had a frost killing the mosquitoes yet, though they weren't an issue.
We walked a portage trail to an adjacent lake with Tracy that we hadn't been on before. It was just for the sake of exploring as some of these trails would have been better suited to us 15-20 years ago. We'll leave some of them for Chris to take her on and carry the gear. (He's big and …a bit younger.)
Dottie and I had a wonderful week with the Kovac's and Phinney's. Unfortunately we didn't take a photo of the star of the kitchen, Diane. She invited us over for some terrific eating material like stuffed peppers. She even has suggested that next year she'll do all the cooking for all 6. That is still being negotiated, though only out of a focus on fairness. But yes, we all have made reservations to be back at Baywolf, same time, same station.
As always we can't say enough good things about Al and Wendy and how much super hospitality they offer. The one thing missing this year was that we didn't get a chance to get out with Al to one of his many off-site lakes. Bella was still Bella and "announced" our entry into the office/store every time.
On our return trip we stayed the night in St. Catharine's, ON. It's about half way and makes our arrival back in Columbus less tiring. The reason we mention this is that we found the world's greatest pizza at a real Italian restaurant almost within walking distance of the motel. We've been trying to get some of the guys we know to make a road trip (7 hours up) but none seem to be enthusiastic about doing it. Oh well, maybe we'll just have to wait until next September.