FISH and TALES
Home of "The Hoover Fishing Report"
This site owned and operated by Jim Horan and is copyrighted. Copyright © 2017 All Rights reserved.
To give you an idea of what the seminar entails we offer photos from HFS XV. Following are some photos taken by Karl Guegold and Mike Nash illustrating what the seminar was all about.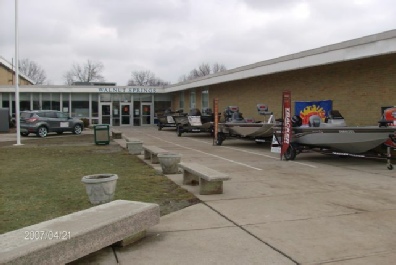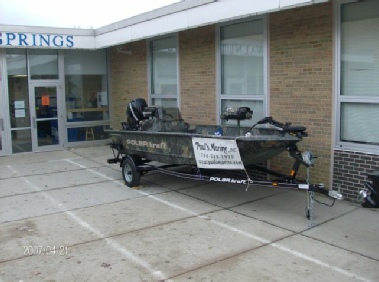 Some of the outside exhibits
Several boats were on display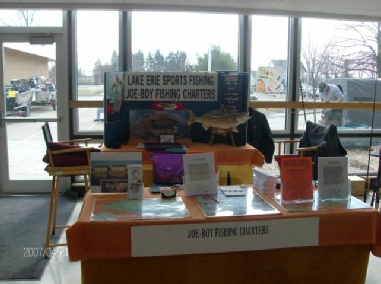 One of the 20+ inside exhibitors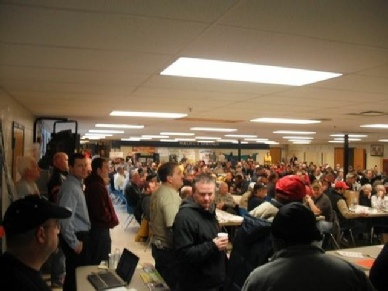 All gather in cafeteria to begin seminar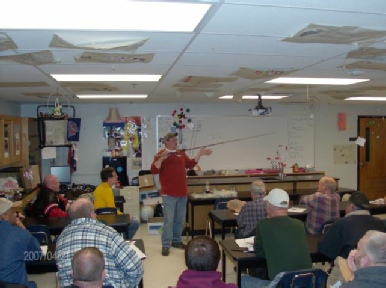 John Biteman & Walt Alexander talk Crappie in the gym
John Adair speaking on Bass Crankbaits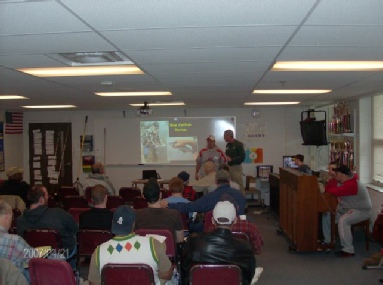 Lew Fogel & Div. Of Wildlife's Marty Lunquest on Cats
Committee and club members prepare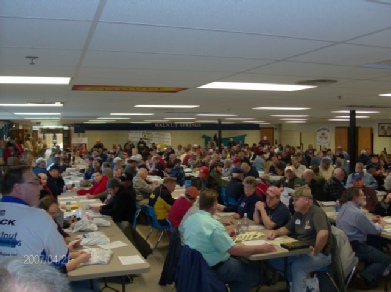 Getting ready for the raffle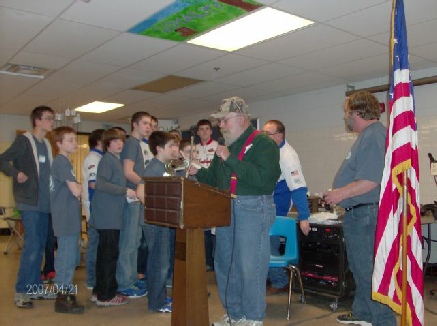 And the winning number is . . .
To get directions to school - MAP
On Saturday, February 18, 2017 the Hoover Fishing Seminar XIX was held. The funds raised for the Walnut Springs Wolves Fishing Club and also Hartley's Hawg's exceeded last year and will provide the necessary funds for the 2 youth fishing clubs for the year. Big thanks to the hard working members of the planning committee. They were:Dave Andrson, Dwight Back, Vic Buzard, Tammie Dill, Karl Guegold, Joe Hatfield, Steve Holtzapfel, Jim Horan, Amanda Johnson, Diana Kutschbach and Tim Van Auken. We also acknowledge with great appreciation all of the parents and youth who spent a great deal of time prior to and at the seminar. Thanks also to the Columbus Bass Masters for all their good work getting all of the cars parked. A large thanks to Wm. Caxton Printing for donating the production and printing of our program.
Special thanks to a great group of Speakers who entertained and informed by sharing their information. They were: John Adair, Troy Becker, Steve Brinkley, Jim Horan, Amanda Johnson, Bob McCarthy, Nick Radabaugh and Ethan Simmons.
Of course, without the generous support of all the folks attending this year's event, there would be no seminar. You who attended were most appreciated.
A very special thanks to all of the sponsors who so generously provided us items for the seminar. Following is a list. We hope you will be a patron of their business and stop in and tell them thanks for their support of this year's seminar.
8 on State
Abuelo's
African Safari Wildlife
Anhurst Veterinary Hospital
Antonio Pizza
Antonio's Pizzeria
Asterisks
Auddino's Italian Bakery
Average Joe's
B Spot
Berlin Farmstead
BJ's Brewhouse
Boat Things Westerville
Boyd's Goodyear
Buckeye Boat Club
Buckeye Brew Craft
Byers Auto Group
Byers Automotive Group
Cabela's
Cantina Laredo
Cellar Lumbar
Cheshire Market
Chili Verde
Cilento Photography
Cincinnati Reds
City BBQ
City BBQ
Cleveland Cavaliers
Cold Stone
Cold Stone
Columbus Crew
Communale
Crawford Mechanical
Cryan's Veterinary Hospital
Dairy Queen
Dan Walker
Dan's Barber Shop
Der Anglen Stik
Didion's Mechanical
Duck Donuts
E&S Supply
Edible Arrangements
Fazoli
Field And Stream
Fin Feather Fur Outfitters
Firestone
Fishing Has No Boundaries
Fitness 19
Four Square Trucking
Fun In the Jungle
Funny Bone
Galena Diner
Grater's
Great Clips
Hampton Inn –Hebron
Hilton @ Easton
Interstate Batteries
Koble
Kurtz Bros
LA Cleaners
Little Chardy's Big Bass Baits
Lomas de Sol
Lucky House
Martin Trucking
Maverick Trucking
Mellow Mushroom
Meyers Landscape
MEZA
Midas
Mike Candella
Next Level Fitness
Ohio State Reformatory
Old Bag of Nails
Old Dutchman
Orange Leaf
Otterbein Depart./Theatre Otterbein Univ. Athletics
Parsons Trucking
Paul's Marine
PG Jigs
Polaris Wellness
Pro Football Hall of Fame Red Apron Pizza
Red Lobster
RKE Trucking
Roosters
Sandra Verhage
Shelly Materials
Sizzle Marine
Skyline Chili
Spatter Park
Starbucks
State Farm (Debbie Montgomery)
Steak Escape
Superior Dimensions
Tecumseh
The Didion Family
Title Boxing
Walmart
Warther Carvings
Westerville Auto
White Castles
Yogi's Hoagies
Yokum Trucking