FISH and TALES
Home of "The Hoover Fishing Report"
This site owned and operated by Jim Horan and is copyrighted. Copyright © 2018 All Rights reserved.
To give you an idea of what the seminar entails we offer photos from HFS XV. Following are some photos taken by Karl Guegold and Mike Nash illustrating what the seminar was all about.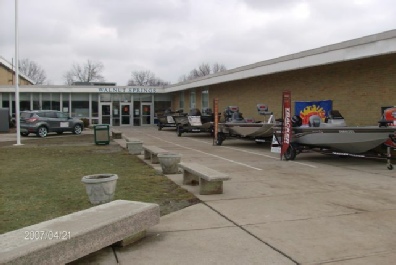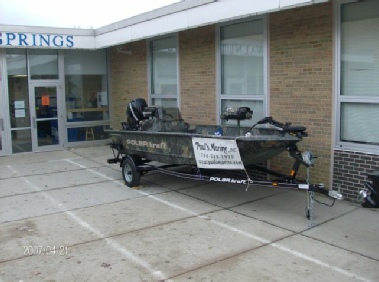 Some of the outside exhibits
Several boats were on display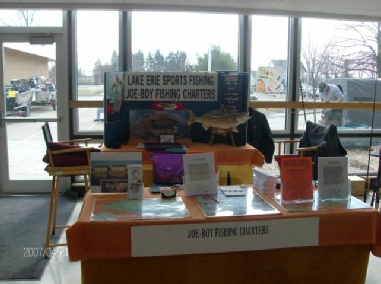 One of the 20+ inside exhibitors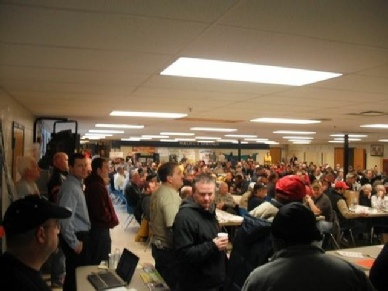 All gather in cafeteria to begin seminar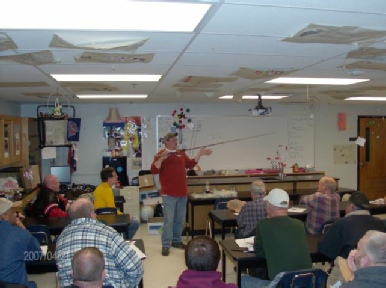 John Biteman & Walt Alexander talk Crappie in the gym
John Adair speaking on Bass Crankbaits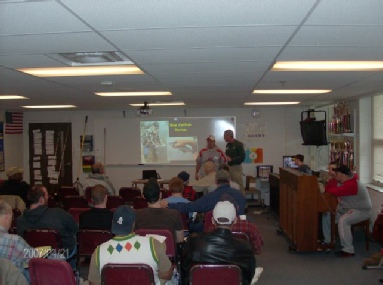 Lew Fogel & Div. Of Wildlife's Marty Lunquest on Cats
Committee and club members prepare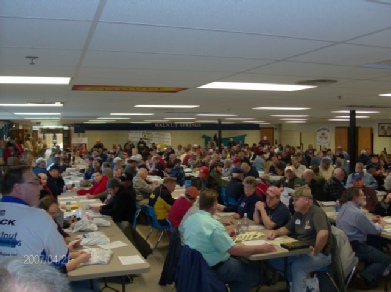 Getting ready for the raffle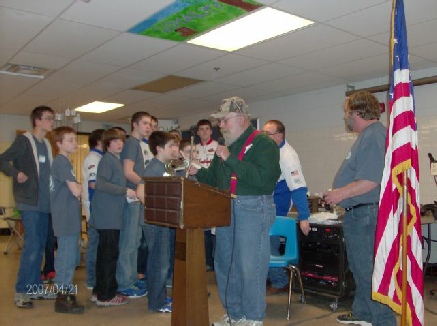 And the winning number is . . .
To get directions to school - MAP
The Hoover Fishing Seminar XX was another success in raising the funds needed for Walnut Springs Middle School Wolves Fishing Club and Hartley's Hawgs.
We'd like to thank the Speakers for sharing their skills and time this year in providing excellent presentations. They were: Dr. Jeremy Pritt- ODNR, Div. Of Wildlife, Scott Furst, Bob McCarthy, Joe Hatfield, Brian Annis, Jason Bacher, Tony Vannelle, Tim Blasczyk. & John Adair.
Thanks to all the members of the HFS XX Committee who were: Steve Holtzapfel, Tammy Dill, Joe Hatfield, Tim Van Auken, Diana Kutschbach, Bob Pharris, Will Pressley, Roy Stein, Tisha Abbott, Jill Berner, Chuck Kidder, Jason Hargreaves, Jenny Chapman, Dave Anderson, Karl Guegold, Vic Buzard, Dwight Back & Janelle Black.
Following are the sponsors who contributed items and money for the event:
Ace Hardware
Andrew Christian - I.H.T Baits
Auddino's Bakery
Boat Things
Brandon Westervelt
Buckeye Boat Club
Byers Automotive
Cameron Mitchell
Carleton Realty
Caxton Printing
Cheese House
Cheryl's Cookies
Chili Verde
Cincinnati Reds
Cinemark Theater
City BBQ
Cleveland Cavaliers
Columbus Bass Masters
Correction for :Keystone Pub
Coshocton Village Inn & Suites
Cosi
Crowne Plaza
Cryan Veterinary Hospital
Dairy Queen
Dave Anderson
Dave& Busters
Der Anglen Stik
Der Dutchman
E& S Supply
Edible Arrangement
Embassy Suites
Fazoli's
Field and Stream
Fin Feather Fur
Firestone
Fisherman's Warehouse
Fishing Has No Boundaries
Fun In The Jungle
Funny Bone
Galena Diner
Great Clips
Hilton Columbus at Easton
Hookers Terminal Tackle
Hoover Gardens
Ike Foundation
Interstate Batteries
Joseph Stark
KendraScott
Key Stone
Knox Marine
Kurtz Bros
Lucas Wildman
Marcella's
Martin Trucking
Mello Mushroom
Mike Candela
North Star
Old Dutchman
Orvis
Otterbein Athletics
Parsons Trucking
Pasquales
Paul's Marine
PF Changs
Phillip Chapman
Pizza Fire
Polaris Grill
Red Lobster
Rich Hunter - Little Chardy's Big Bass Baits
Roosters
Roush Hardware
Rusty Bucket
Sam's Club
Schneider's Bakery
Shelly Materials
Splatter Park
State Farm (Debbie Montgomery Agency)
The Medallion Club